Back to News
Before & After 3D Community
2015-07-20
Crisalix is excited to announce a new service Before & After 3D Community. With the "Patient Access" option they will now be able to share their Before & After 3D on the new dedicated Crisalix community site.
Crisalix just started this new service a week ago, and with the basic, initial options we provided to the patients, each 3D simulation, including doctor contact details, has been seen on average by 156 different people and is increasing in views by 10 additional people per day! A direct link is provided for the visitor to start a 3D consultation with the doctor!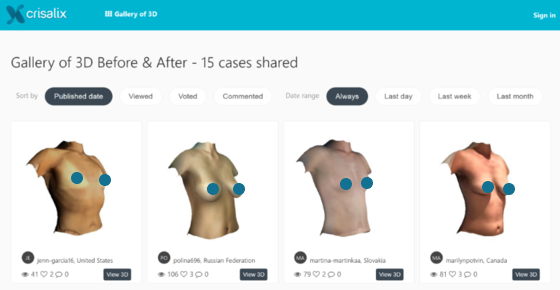 Follow the tips below to maximize the results for your practice that doesn't require any work or additional funds from you:
- Do each of your consultations in 3D.
- Give each patient the "Patient Access" option.
- Explain to each patient the value of the Before & After 3D Community – the more they share, the more feedback they will receive from others.
- Encourage them to be specific in what advice they are looking for in the comment box.
- Increase your exposure even more by being active and commenting on each patient's simulations.
Stay tuned for more news like these!