Back to News
Online Consultations: A Remedy in Time of Crisis?
2020-03-17
COVID-19 is spreading around us, and besides causing a health crisis, it is also becoming an economic crisis, with travel bans and more people staying home.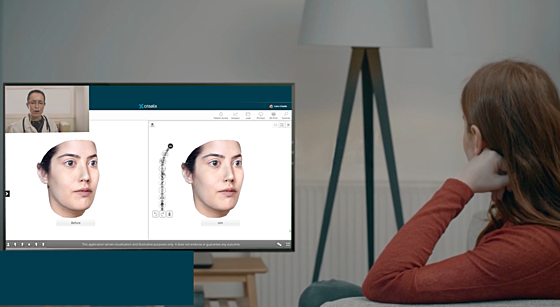 Perhaps online consultations can be a solution for your practice, helping you to stay in touch with patients, and continuing to offer your expertise to those considering treatments.
With Crisalix AI, patients can take 3 selfies at home, which will be converted into a 3D image in seconds with anatomical measurements and volumes. You can then show their before and after 3D images, and discuss possibilities during a videoconference.
Given the latest developments in the situation linked to the Covid-19 virus and to government announcements, we have implemented new measures to ensure the safety of our customers and employees.
Crisalix makes every effort to limit the spread of the coronavirus. Our team has been teleworking for several days in most countries and remains at your disposal constantly.
Our service remains accessible 24 hours a day, 7 days a week.
The entire Crisalix team wishes you and your loved ones to get through these difficult times as calmly as possible and stay healthy.