Back to News
Latest update: New dashboard + unlock even more patient insights to improve your practice
2023-06-13
After the successful launch of the Patient App as a post-consultation and procedure solution just a few weeks ago, we are thrilled to announce our latest product releases to continue enhancing your experience with Crisalix.
Based on our community feedback, we have added four new features to help you better understand your patients' progress in their procedure journey to increase your conversion rate at each step while improving their overall satisfaction, among others.
Enhance Each Step of Your Patient Journey with the Updated Patient List
With this improvement, you can have better visibility of your patient's progress. Your patient list now supports procedures and includes columns for patient app and procedure status that can be updated in an easier way directly from the list. In addition to our new tooltips feature, and new filters, you will be able to better understand your patient's journey, improve their satisfaction and act timely, where needed, to guarantee more procedures.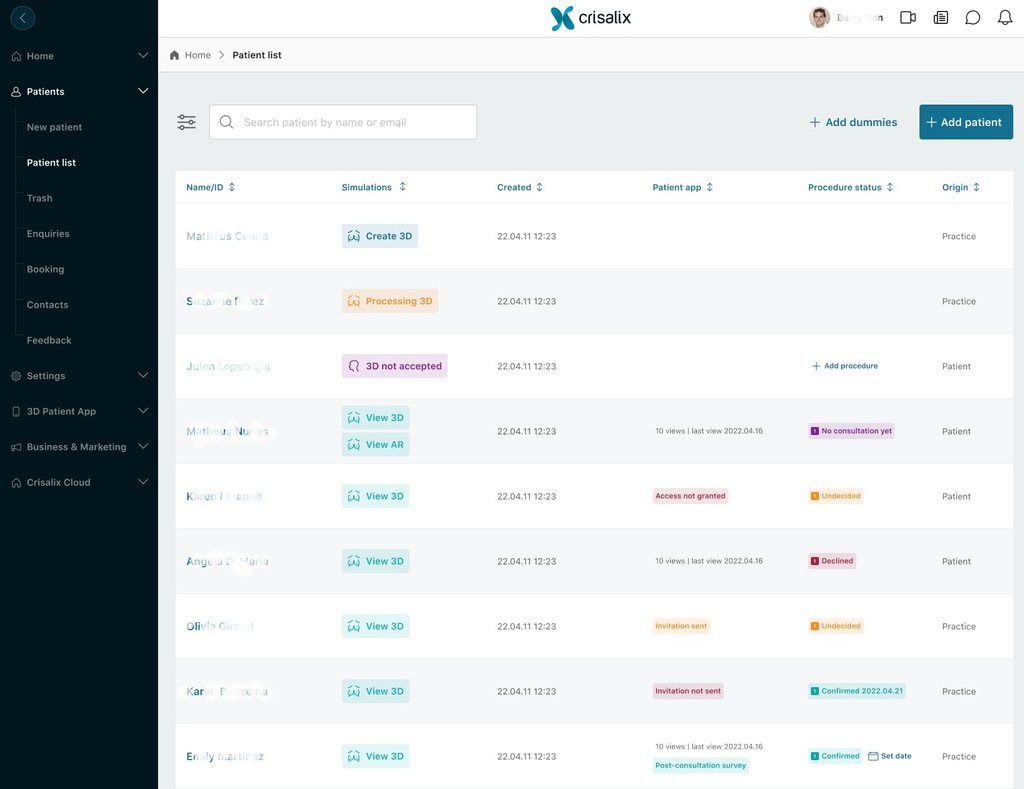 More Insights and More Conversion with the Improved Survey Questions
With a new set of practice-centered questions, you can now gather even more specific insights from your patients and gain a deeper understanding of their experience and how they perceive your service.
This new survey will also provide extra insights for each undecided patient so that you can better communicate and answer concerns to help them with their decision process.
In addition, you can tailor the survey with two custom questions that will give you further feedback on specific topics relevant to you and your practice.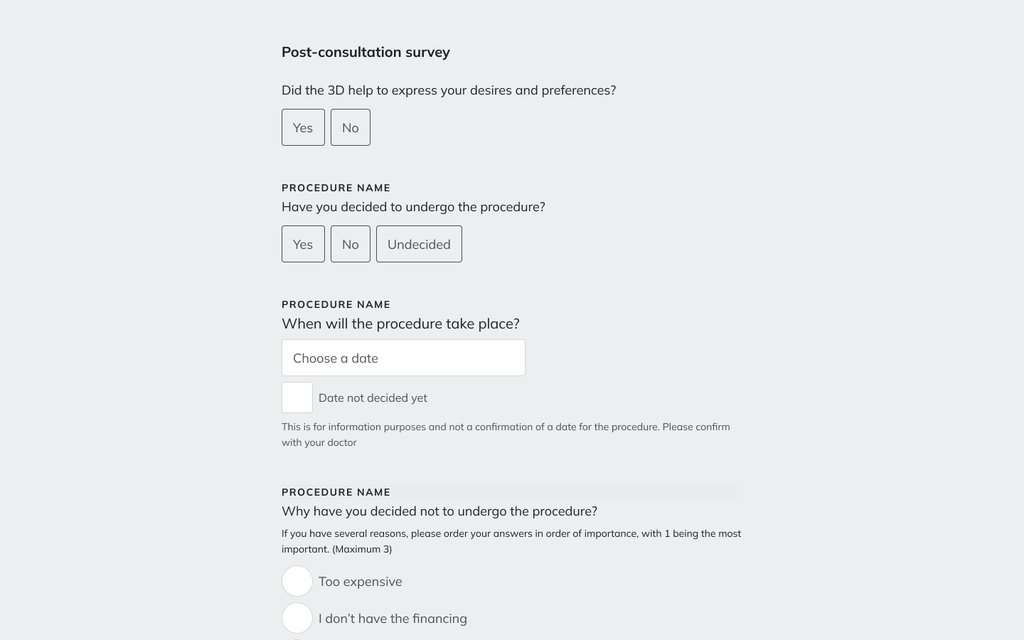 Obtain Precise & Powerful Data with the Procedure Selector
With the new one-click selector, you can easily improve the quality of information gathered from patients per procedure to make better and more informed business decisions in your practice. You can then visualize it in your patient list for better organization and actions.
This will soon also open the door to allowing the simulator to be readily set up based on the specific procedures the patient is interested in, once the 3D is generated, and other exciting features.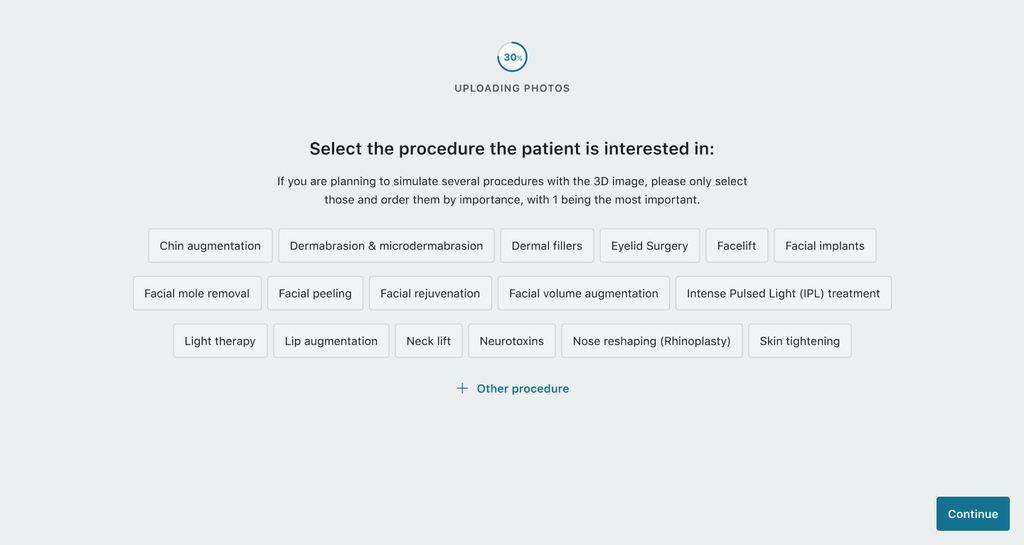 Updated Procedure Report Screen
Updating your procedure status is key to measuring and constantly improving your consultation-to-procedure ratio, gaining access to essential data on your Crisalix dashboard, and keeping track of any undecided patients until their procedure is confirmed. This is now made easier through our updated procedure report screen, available whilst in the simulator.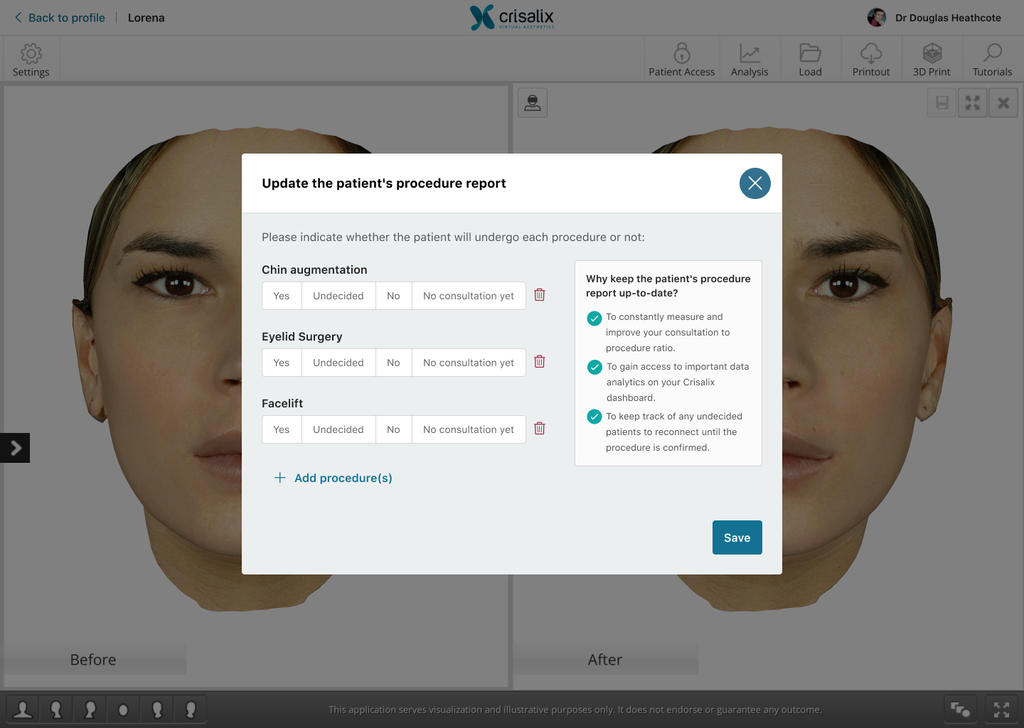 We are confident that these updates will boost the knowledge you have of your patients, save you time, and increase the number of procedures without extra effort.
We eagerly anticipate receiving your feedback and ideas on how to continue evolving Crisalix as a revolutionary solution within the aesthetics field.
Do you want to have a dedicated session to review these updates?