Back to News
TOTAL DEFINER Masterclass Plan V Prototype
2020-05-05
This is a unique specialty VIRTUAL workshop designed for those who want to upgrade their practice. This workshop will address the science, art & safety of body contour surgery. It also explores the role of fat grafting in advanced techniques-High Def Lipo.
For the first time we will include Augmented Reality (AR) and Virtual Reality (VR), uniting the digital, scientific and physical worlds, allowing you to take all the information and content visually, in the same way that you do in the world.
You can use virtual glasses to enjoy the workshop.
Panel of Experts:
ALFREDO HOYOS, MD
DANIEL DEL VECCHIO, MD
ALEXANDRA CONDE GREEN, MD
PAT PAZMINO, MD
Would you like to register? Please follow this link:
http://totaldefiner.com/PLANV-Masterclass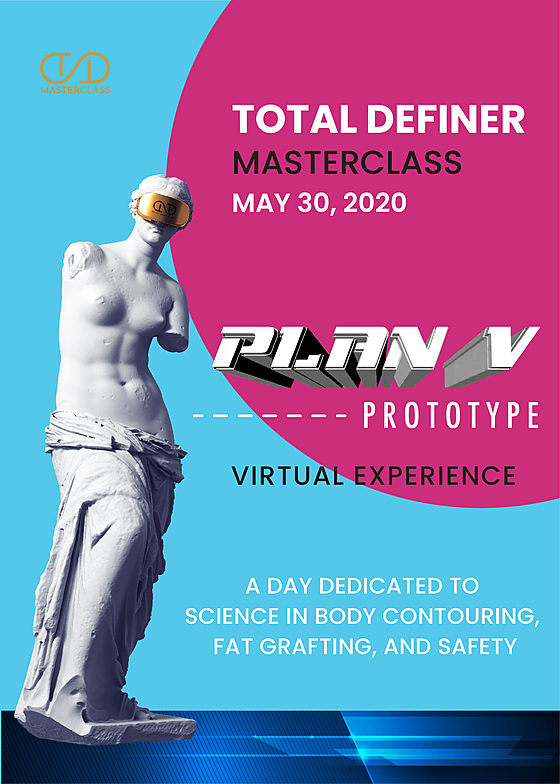 It will take place on Saturday May 30, from 8:00 am to 6:00 pm (Colombian Time)
Pacific Time 6:00 AM | CET Time 3:00 PM | Brazil Time 10:00 AM
The official language will be English, but the event will be recorded and then translated into Portuguese and Spanish, respectively, to be sent to the doctors after the event.
If you do not have the virtual glasses, don't worry, we will send a link that you will use to be able to enter the virtual world through your computer or telephone.