Volver a Eventos
Philippine Association of Plastic Reconstructive and Aesthetic Surgeons (PAPRAS) Plastic Surgery Manila 2019
29/11/2019 - 1/12/2019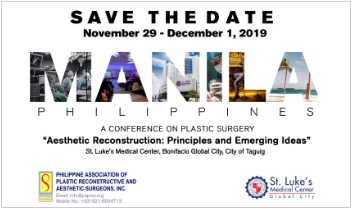 Join us as Crisalix takes part in the Philippine Association of Plastic Reconstructive and Aesthetic Surgeons (PAPRAS) Plastic Surgery Manila 2019. It will cover the principles and emerging ideas in Aesthetic Reconstruction.
The event will happen in St. Luke's Medical Center, Bonifacio Global City located at 5th Ave, Taguig, 1634 Metro Manila. Save the dates on November 29 - December 1, 2019.
Visit us at Booth Silver 3, to see live demonstration of our ground-breaking imaging solution, including the newest Augmented Reality technology, the very first imaging solution in the world where patients can see their post-op 3D simulations live and in real time.
Our team looks forward to your valuable participation and support for a successful and exciting event.
29/11/2019 - 1/12/2019
St. Luke's Medical Center, Bonifacio Global City
5th Ave, Taguig, 1634 Metro Manila