Back to News
5 Ways to Differentiate Yourself From Any Other Plastic Surgeon or Aesthetic Specialist
2023-03-24
The demand for plastic surgery has grown in recent decades, resulting in an influx of plastic surgeons and clinics. Due to the plethora of options available, it is now more vital than ever for aesthetics professionals to distinguish themselves from their competitors.
Standing out from any challenger is essential in both obtaining and maintaining clients. By doing so, aesthetic specialists can establish a powerful brand identity and enhance their clinic's reputation, ultimately resulting in greater patient satisfaction.
In this article, we will share 5 things you can do to differentiate yourself from any plastic surgeon competitor:
Patient experience: Create a unique and exceptional patient experience. Offer a full and unique patient journey that starts long before the consultation and continues beyond the treatment.

Reputation: Build a strong authority in the community through word of mouth, testimonials, and positive reviews.

Technology: Invest in the latest high tech to provide cutting-edge procedures and services to your patients.

Communication: Offer your patients clear and trusted communication leading to a more informed decision-making process.

Marketing: Develop a comprehensive marketing strategy to reach your target audience and showcase your unique qualities and services. You can learn here 5 ways to promote your medical practice.
How can Crisalix help you with this?
Crisalix offers plastic surgeons the most advanced 3D & 4D Virtual Reality and Augmented Reality technology for medical aesthetic imaging and business solutions.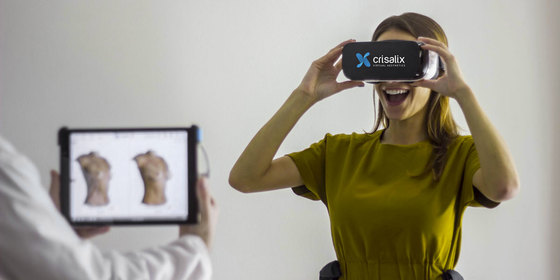 With our cutting-edge technology, aesthetic professionals can elevate the whole patient journey to new heights starting from your social media or website until after the treatment. By providing a 3D simulation of the desired outcome prior to surgery, you can offer your patients a unique experience and help them make more informed decisions and feel confident in their choices. This approach to patient education and communication is a game-changer in the industry.
Crisalix not only has the best in class post treatment satisfaction data supporting its clients, but it also offers a wide range of features to increase your patients online recommendations and guarantee you a minimum of 90% post consultation feedback and insights from your patients. Something never seen before.
Do you want to know more about Crisalix?