Haberlere Dön
Increase your online presence with Crisalix built-in marketing solutions
20.04.2023
What does it mean to have an online presence in the aesthetics field?
Having an online presence means having a visible and active presence on the internet through various digital channels such as social media, websites, blogs. This can be through personal or professional accounts.
Having a strong online presence is becoming increasingly important as more and more patients turn to the internet to research and find information about potential plastic surgeons and procedures. A strong online presence can help you and your medical practice to establish your credibility, reputation, and authority in the plastic surgery industry. It also enables you to reach a wider audience, build a community, and engage with your patients.
Having an online presence involves regularly updating and sharing content, responding to comments and messages, and being active on various online platforms. It can also involve creating and maintaining a consistent brand image and voice across different online channels.
Crisalix built-in marketing functionality
Crisalix is a professional 3D plastic surgery imaging platform that supports plastic surgeons to enhance the full patient journey and improve their online presence. Its data driven solution supports physicians with their SEO & online rankings while providing very extensive insights.
Beyond its advanced imaging capabilities, Crisalix also offers built-in marketing solutions including a 3D booking application, virtual consultations, booking directory, community and many others exclusive tools to complement your marketing efforts to attract and convert more patients than ever before.
Here are some of the marketing solutions you can take advantage of:
The Crisalix's 3D Patient App allows your patients to create a 3D model of their body or face, which then can be intervened by you to simulate the results of various cosmetic procedures, such as breast augmentation, rhinoplasty, or facelifts. This "app" is 100% online and customizable, which means that you can include the link on your website and social media, as well as add your logo, profile photo and colours of your brand. This will help you attract more patients since you are offering a customizable and interactive tool and also establish your reputation online as a modern and cutting-edge provider in the cosmetic surgery field.
On the other hand, when you create a 3D simulation for a patient, Crisalix allows you to share it with them by the 3D Patient App. So, patients can easily showcase their potential results and spread the word to their social circle. This could help you increase your exposure and develop a strong online presence, leading to greater brand awareness and potentially more business.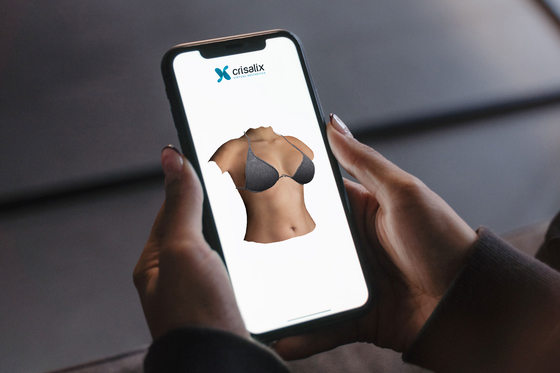 Your patients can post their 3D simulations in the Crisalix Community, with hundreds of unique visitors per patient, and ask their friends and community to select the best option. By encouraging patients to do so you can attract new patients without any extra effort and your practice can gain more exposure online and establish yourself as a trusted and reputable provider in the industry.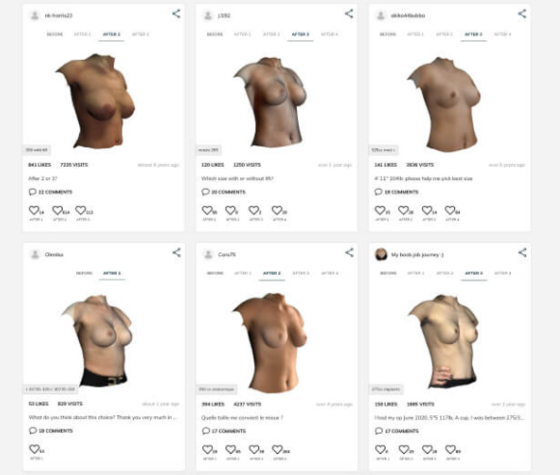 Crisalix offers you an online tailor-made booking application that helps you simplify the appointment process for your patients and optimize your practice efficiency. This kind of tool enables you to track your patients' entire journey, from initial contact to post-treatment follow-up, making it easier to provide high-quality care and build lasting relationships with your patients. Including tools like online booking on your website and social media channels, can help you stand out in a crowded market, giving you an edge in the online world.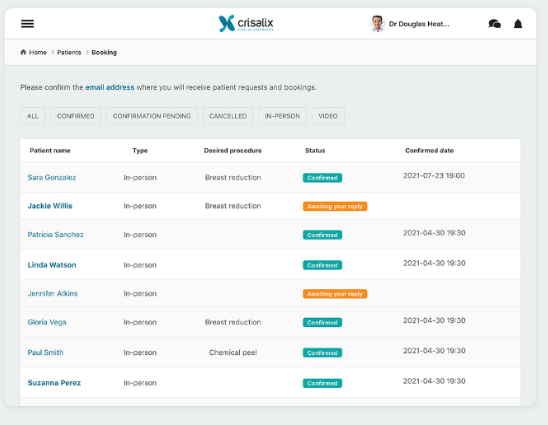 Crisalix can help you attract more patients from the world's most popular 3D booking directory for plastic surgeons. The Surgeon Finder tool allows you to create a professional profile that showcases your experience, specialties, and certifications. This gives the opportunity to potential patients to easily find and connect with you, ultimately increasing your visibility. The ability to book appointments directly from the surgeon's profile further streamlines the process, making it even more convenient for patients. All of these factors contribute to building a strong online presence for your medical practice, which can have a significant impact in today's digital age.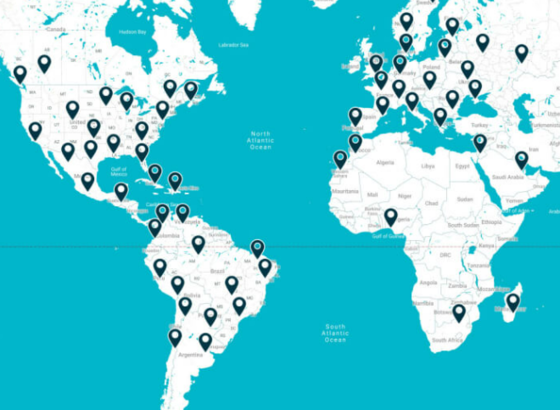 Do you want to know more?